Hello to my new followers! So glad to have y'all here! I hope you like hanging around:)

I'm finally bouncing back to life this week after a super fun, crazy weekend. I had some girlfriends in town and we acted like we were 21 all weekend. Sunday the hubs and I spent the day on the boat with our friends - so glad boat weather is here!!

I'm so excited about my first Giveaway over at Suz's Treats going to such a great person! Congrats Julie!

I'm also excited to be featured over at Your Girlish Whims! Check out all the fabulous features!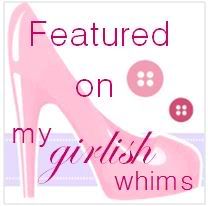 Keep on crafting y'all!