We had a snow day at the beach yesterday, so naturally everything shut down! My bobbin case broke on Sunday, so I had a full day to craft and no working sewing machine! Boo!

So I created these vases instead. The fabric really pops in my living room:)




*Update* I've had many requests for instructions on this project! It is easy-peasy. Cut the fabric to fit any glass vase you have (one of mine is actually an old beer glass!). Apply Mod Podge to the glass and apply your fabric, being sure to smooth out any bumps and wrinkles. Finish with a top coat of Mod Podge. Add a candle & light! See, easy-peasy!*

Where I'm linking up this week: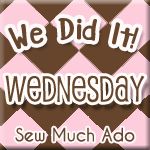 How'd you spend your snow day?